OFWGuide.com is a Filipino website for new OFWs and for Filipinos who want to migrate, find an overseas job or work abroad.
Learn to Invest: Attend the Investment Fair for OFWs & Families
Jan 16, 2014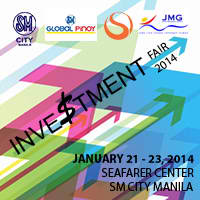 To help OFWs and their dependents learn more about investing and using their hard-earned money properly, Seafarer Center organized an informative exhibit, titled "Investment Fair 2014″ for OFW Balikbayans and their families
The exhibit aims to teach OFWs and their the dependents on how thay can use their hard-earned money to build different business opportunities in different industries. The exhibit will also showcase a seminar-workshop on how OFWs can put up their own business ventures. The event will be graced by certified business and wealth coaches that will lead various motivational talks for OFW participants.
Join the event on January 21 to 23 at SM City Manila and learn how to use and invest your money properly!