OFWGuide.com is a Filipino website for new OFWs and for Filipinos who want to migrate, find an overseas job or work abroad.
Where do the biggest OFW remittances come from?
May 21, 2014
It is a common notion that once a Filipino work overseas, he or she will send money back home to support the family. It's very common that Filipinos resort to working abroad to earn more and bring home more. Various countries became popular because they are known to be good destinations of Filipinos who want to try their luck overseas. So, which of these top OFW destinations are the top money remittance sources of Filipinos?
Check out this tabulated data from Rappler.com: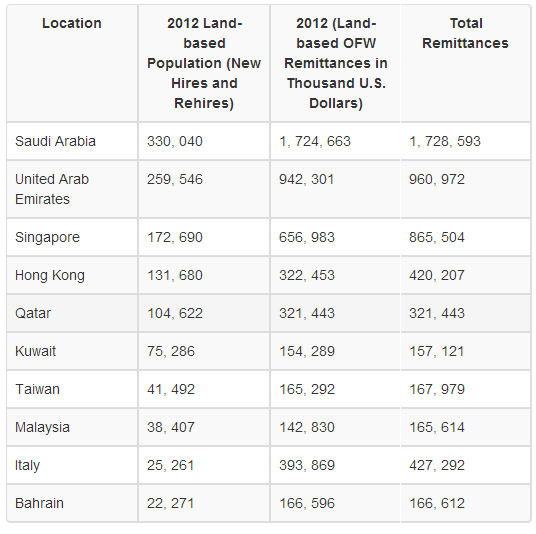 Saudi Arabia leads the list of OFW population density (hires and rehires) and total amount of remittance, while other Middle East countries such as Qatar, Bahrain, Kuwait and United Arab Emirates also made the top 10 OFW remittance (landbased) list.
Meanwhile Asian countries such as Taiwan, Singapore, Malaysia and Hong Kong are also listed as top money remittance sources of the Philippines. Italy is the sole big source of remittance from Europe.
Sources:
Philippine Overseas Employment Agency (POEA) and the Bangko Sentral ng Pilipinas (BSP)
**Re-blogging of the article excluded sea-based Filipino workers. Original article was posted at
www.rappler.com
on May 1, 2014 by loren Bustos.