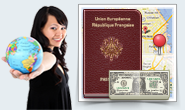 OFWGuide.com is a Filipino website for new OFWs and for Filipinos who want to migrate, find an overseas job or work abroad.
Chesham Recruitment Inc. A Recruitment Agency of the Highest Calibre
Feb 28, 2009
Chesham Recruitment Inc. operates to the highest international standards, in terms of clarity of communications with clients and candidates, effective screening, selection and processing of candidates and integrity.
The principles and ideals of Chesham Recruitment Inc. are clearly reflected in their company's vision and mission: To be a recruitment agency of the highest calibre, measured by client satisfaction, employee satisfaction and excellent relationships with government offices, as well as achieving high annual deployment numbers.
It is also their mission to deliver quality service to clients, ensuring that each candidate is treated with dignity by Chesham Recruitment Inc. and is carefully selected and prepared, for clearly defined positions, with quality clients.
It is very evident that Chesham are living up to the standards they have set themselves.
Their senior staff has extensive experience in the recruitment industry and personal overseas management experience in various business sectors. This recruitment agency takes extra care in preparing and orientating candidates for their new assignment, especially in relation to the customs, traditions and sensitivities of their new location.
Irrespective of global location, their International Director communicates personally, in great detail, with each client, to ensure that they are accurately representing the specific needs of the client and the specific working and living conditions relating to each particular vacancy. This ensures a clear understanding between employer and employee, on all aspects of their proposed relationship.
To assists employers in their manpower planning process, Chesham Recruitment Inc. issues to each employer's HR Director, a Weekly Recruitment Report, detailing the precise status of all candidates being recruited and processed by Chesham, on behalf of that particular employer.
Chesham Recruitment Inc. remains an essential link between the family remaining in the Philippines and the overseas employee, throughout his/her period of employment.
To know more about Chesham Recruitment or to view their latest job openings, please visit their website at: http://www.cheshamrecruitment.com.ph