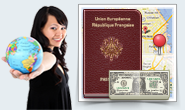 OFWGuide.com is a Filipino website for new OFWs and for Filipinos who want to migrate, find an overseas job or work abroad.
POEA: No jobs as factory workers available in Sweden and Iceland
Maria Theresa S. Samante, Jun 7, 2006
The Philippine Overseas Employment Administration warned Filipinos that there are no job openings for factory workers in Sweden and Iceland.
The announcement was made after the victims of Cebu Manpower Corporation trooped to POEA to sue Large Scale/Syndicated Illegal Recruitment and Estafa at the Prosecution Office in Makati City for preliminary investigation.
The cases were filed against Cebu Manpower President Elizabeth Papag and Charo I. Santos, secretary of the agency. Also charged were Noel Papag, Dennis Acosta, Erwin"Tisoy" Papag, and one "Bobot/Botbot/Bebot"/ and "Bobby".
Administrator Rosalinda Baldoz of POEA said that the agency was able to pocket around P6.5M from the 27 victims who were asked P75,000.00 and above as placement fee for non-existing job in Sweden. Other applicants paid as much as P393,500 for faster processing of their applications and documents.
The said amount that were collected by the agency are expected to get higher as the number of the victims, mostly residents of Olongapo City and Zambales, are anticipated to file a suit against the agency.
The victims are reported that it has been 10 months since the agency collected "placement fees" from them.
The Administrator said that the license of Cebu Manpower may be cancelled for allegedly recruiting workers for non-existent jobs in Sweden and Iceland. She also warned the public against transacting business with 11 unlicensed recruitment firms. They are:
A-M Philippines Professional Services Corp.

Big Circle International Manpower Agency

Emmeri International Inc.

Jang International Promotions and Management Corp.

Mecprego International Inc.

Maritima de Manila MGM Systems, Inc.

Princess Talent Productions Inc.

Rising

Sun

International

Human

Resources

Center

Starlink International Promotions Inc.

Studio 85 Promotions and Vitamin

Cebu Artists International Inc.