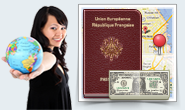 OFWGuide.com is a Filipino website for new OFWs and for Filipinos who want to migrate, find an overseas job or work abroad.
Laws and Visa Information
Visa Numbers Available in September and October
Atty. Reuben Seguritan, Sep 4, 2007
The employment-based first preference shows a cut-off date of January 1, 2007 for all countries while the second preference has a cut-off date of January 1, 2007 for most countries including the Philippines and Mexico. China and India have later cut-off dates of January 1, 2006 and April 1, 2004 respectively.
The third preference category which includes skilled workers, professionals and Schedule A workers such as nurses and physical therapists shows a cut-off date of August 1, 2002, for all countries except China, India and Mexico. These three countries have no available visa numbers in this category.
There are no visa numbers for all countries in the unskilled or other worker category. This category includes domestics, home health aides and child monitors.
Religious workers and investors with priority dates earlier than January 1, 2007 have available visa numbers for all countries.
The State Department announced more than a month ago that there would be no visa numbers available in the employment-based categories until October 2007, the start of the 2008 fiscal year. But the return of unused July visa numbers by consular posts abroad and the limited amount of pending demand for final processing at those posts made it possible for the Department to reestablish the cut-off dates in many of the categories.
October 2007 Projection
On August 20, 2007, Charles Oppenheim, Chief of Immigrant Visa Control and Reporting at the State Department, projected, in discussions with the American Immigration Lawyers Association (AILA) the availability of visa numbers in October in the unskilled workers category. The cut-off date for all countries will be October 1, 2001.
This will benefit those adjustment applicants whose applications were rejected in June 2007 despite the availability of visa numbers in the June 2007 Visa Bulletin. The rejection was contrary to current regulations according to the AILA.
The visa number availability in the employment-based first and second categories will be about the same as those shown in the September 2007 visa bulletin, according to Oppenheim. The third preference cut-off date, on the other hand, will be around May 8, 2001 and May 15, 2001 for India and Mexico respectively and August 1, 2002 for all other countries including the Philippines.
Backlog Increase
The New York Times has reported that about 300,000 applications were filed by skilled workers and professionals from July 1 to August 17, 2007. This figure was extremely high compared to a monthly average of 54,700 applications filed before July.
The dramatic increase was due to the increase of filing fees effective July 30, 2007 and the reversal of the USCIS July 2 memo rejecting adjustment of status applications whose priority dates were current under the July 2007 visa bulletin.
While the adjustment applicants may be entitled to interim benefits such as employment authorization, the high volume of applications will certainly prolong their wait time for their green cards due to the annual limits imposed by law on the preference categories.
Editorís Note: REUBEN S. SEGURITAN has been practicing law for over 30 years. For further information, you may call him at 212 695 5281 or log on to his website at http://www.seguritan.com/.