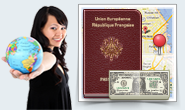 OFWGuide.com is a Filipino website for new OFWs and for Filipinos who want to migrate, find an overseas job or work abroad.
Finland to Hire RP Nurses
Sep 26, 2007
Finland, a European Union (EU) member-country is a favorite destination for Filipino seafarers. The Nordic country is also set to hire Filipino healthcare workers like nurses and caregivers in 2008 and 2009.
According to the Philippine Ambassador to Finland, Zeneida Angara Collinson, "Finland's rapidly ageing population presents labor opportunities for Filipino nurses and healthcare workers." Tarja Halonen, the President of Finland is set to visit the Philippines in 2009.
For 2008 and 2009, a healthcare and social care manpower company in Finland plans to deploy the first 100 Filipino nurses. Next year, 20 nurses will go to Finland and undergo training and language studies prior to deployment. The 20 nurses will form the pilot group for Filipino nurses. Their deployment will entitle them to all the benefits similar as to what Finnish nurses received.