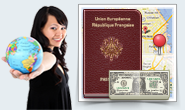 OFWGuide.com is a Filipino website for new OFWs and for Filipinos who want to migrate, find an overseas job or work abroad.
Online Passport Appointment System Now Available
Maria Theresa S. Samante, Feb 28, 2008
The Department of Foreign Affairs (DFA) has launched "DFA Passport Appointment System by Internet". This new system caters to passport applicants that now have the option to set an appointment with DFA and apply for passport via Internet.
As of this writing, the DFA Passport Appointment System by Internet is only available for the DFA Passport in Manila. Aside from that, they can only accommodate the following:
passport renewal for those whose passports have already expired;

passport renewal for those whose passport will be expiring within the next one year;

senior citizens (more than 60 years old)
According to the DFA, the online appointment system will soon accommodate all passport applicants. Booking an appointment must be made one week before the proposed date of appointment. An applicant must wait for the confirmation and must secure the reference number given by the DFA passport office before going to the DFA for filling of the application.
Applicants must provide their complete names (first, middle and last), birthday, birthplace, latest passport number, date of issuance and email address, where the confirmation will be sent.
Applicants must report at the DFA office on the date and time they confirmed to apply for the passport. The DFA advised the applicants to apply way ahead of their scheduled departure since processing of the passport may take seven working days for overtime and two to three weeks for regular processing.
If you want to make an appointment please visit the DFA website at www.dfa.gov.ph or click this link: DFA Passport Appointment System by Internet