OFWGuide.com is a Filipino website for new OFWs and for Filipinos who want to migrate, find an overseas job or work abroad.
Bayani Rin Ako! Featured OFW
OFW Owes Success to Poverty
Rona Diaz, Aug 24, 2013
Success is best reaped by those who greatly toiled.
Imagine a frail, young boy walking about 6 kilometers every day just to go to school. He woke up as early as 4 AM, prayed for a good weather then went on for his daily stride. During rainy days, he used banana leaves instead of umbrella to keep his body warm and dry. He would sometimes leave his home with an empty stomach because his parents could not buy food. It was a struggle he endured for many years so he made a promise that his future children will not suffer the same. His name is Oliver – and now, he has already fulfilled his vow.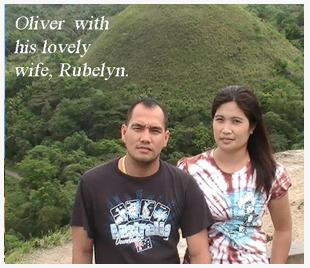 Oliver, 32, grew up in the province of Bohol. At a young age, he realized how life can be so miserable when one is mired in deep poverty. His family had scarce resources and income came from his dressmaker-father. His parents could not afford to send him to college hence Oliver practically took up a technical-vocational course. He later earned Php18000 (AUS $450) per month when he began working as a diesel mechanic in Manila. He was initially contented with his pay until he had a family of his own and survival became a major concern.
He was troubled every time his kids would get sick and he had no money for their hospitalization. When his eldest daughter began her studies, Oliver decided to work in Australia, thousands of miles away from his family, in order for him provide his family's mounting needs. "Like any other parent, my only dream is to give the best education for my children. I don't want them to suffer the way I did when I was a young boy," Oliver said.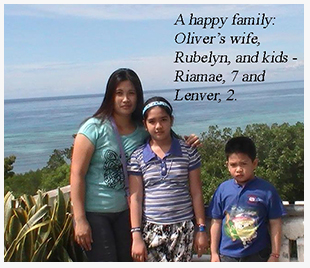 In 2008, Oliver chose UltimateSkills as his partner agency that will connect him to a great employer in Australia. During the screening, he feared the criticism of his fellow applicants who mostly had work experiences overseas. But Oliver is born as a winner – he persisted and silently hoped that everything will turn out fine. He was cooperative in submitting the requirements, focused in learning and passing the IELTS exam, eager in his employer's interview, and patient in waiting for the application result. On top of it all, Oliver was very much determined – he was ready to conquer the obstacles for the sake of his family; the memories of childhood poverty triggered his determination.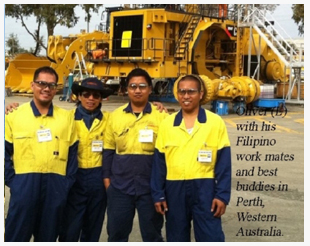 The exciting news came six months later – his employer from Perth, Western Australia offered him a job as a mechanic and he was deployed quickly. His current earning is enough for him to support his family and prepare for the future of his children. "Australia is a country with abundant opportunities. My employer is very nice and kind to us. I work very hard to meet their expectations."
Oliver highly recommends UltimateSkills to Filipino jobseekers wanting to work abroad. He vividly recalls the efficient services of UltimateSkills, "I did not have to follow up the status of my application because the staff updated me regularly. They provided an end-to-end solution starting from finding a credible employer, preparing us for the IELTS exam, improving our trade skills, orienting us about the life in Australia and some safety tips in the work place."
For Filipino job seekers, Oliver gives this advice, "Just keep on praying and trusting GOD. If the opportunity comes, don't hesitate and grab it at once. Look back where you are from." He also emphasized the importance of making the right choice by selecting reliable agencies like UltimateSkills that turns aspirations into fruition.
Someday, Oliver plans to bring his two kids and wife to Australia so they can live together as a family. For now, he keeps on toiling hard, each sweat dedicated for his loved ones. "I hope that my children would succeed in their lives and that they become good persons," he shares. Aside from helping his relatives and friends, he is sponsoring the holistic development of an indigent child through humanitarian organizations. This is his humble way of giving back.
Last year, Oliver bought a 3-storey house in Manila and recently purchased two cars in Australia. He also set up a family-owned business that is currently managed by his thankful wife in the Philippines.



Poverty is a harsh reality for many people. But just like Oliver – poverty is not a hindrance but an inspiring condition to drive us in pursuing our dreams.