OFWGuide.com is a Filipino website for new OFWs and for Filipinos who want to migrate, find an overseas job or work abroad.
Want to Own a House? Make it Happen Now
Feb 4, 2014
Been working for a long time overseas? Have you already invested on something that is all worth it, say like owning a house?
Most of the time, buying a house is always one of the priorities of overseas Filipino workers (OFWs), and that includes Filipino seafarers. So, why not start investing your hard-earned money on a future home now?
Nexus Real Estate Corporation is here to help you make that dream house a reality.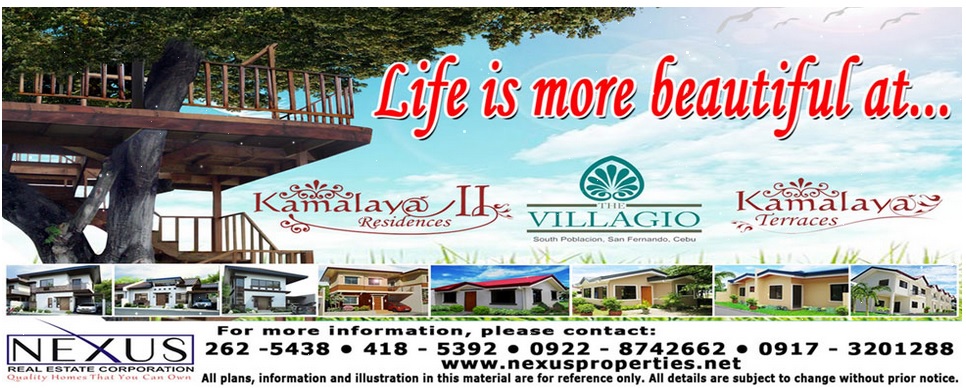 Nexus Real Estate Corporation is a property development company that offers affordable yet quality housing units for OFWs. Nexus has sold-out four property development projects in Cebu (particularly in Roseville and Minglanilla, Cebu), and the success of these projects led to Nexus becoming one of the top choices for property development in the region.
At present, Nexus Real Estate Corporation housing projects range from social housing to high-end residential areas but also cater to middle range real estate market, as this part of the market commonly includes OFWs and Filipinos married to foreigners.
Interested about getting your own abode now? Contact Nexus Real Estate Corporation now via these details:
Nexus Hotlines: (0917) 320-1288; (0917) 261-1792
Telefax: (032) 262-5438; (032) 261-1792
Landline: 262-5438; 418-5392
Address: 2nd Floor Nexus Building, N.Bacalso Ave., Cebu City 6000 Philippines