OFWGuide.com is a Filipino website for new OFWs and for Filipinos who want to migrate, find an overseas job or work abroad.
Jobs for
Mason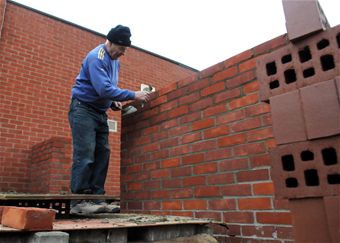 Nature of Job:
Masons are one of the important men in construction. They install tiles, bricks and other cement-based materials. They also work with heavy duty equipments and often assigned to do the heavy tasks.
Basic Tasks:
· Layering building materials such as bricks, concrete, tiles and other construction materials.
• Fabricates, alters, repairs, and maintains walls, sidewalks, street curbs, floors, bathroom showers, sink counters, partitions, manholes, and other related structures or surfaces.
· Mixes cements.
· Coordinate with clients, engineers and other people in the construction for te project.
· Operates heavy equipments.
· Make assessments, reports, and note needed materials.
· Make plans and report changes ife there's any to the project coordinator
Educational Background
· At least high school graduate.
Skills and Competency Requirements:
· Wide knowledge and skills in construction.
· Knowledge in tile, brick and cement setting.
· Knowledge in operating light and heavy equipment materials.
· Knowledge and skill in the construction, alteration, repair, and maintenance of masonry structures and surfaces.
· Ability to work under pressure with less supervision.
· Can assess future problem with the construction.
Employment Opportunities:
Masons are very in demand abroad especially in the Middle East where construction and oil firms remain as the biggest industry. Nowadays, masons are also needed in countries like Australia and Canada. However, these two countries have stricter qualifications unlike countries in the Middle East.
Work Environment:
Mason's work environment is considered as a "hazardous place" which requires them to wear protection outfit. The place is an accident prone area which means every mason to be careful and always work with a companion.
Work Hours:
Mason works for 8-10 hours a day. The rest day depends on the employer and the country that they are in.
Click here for more job profiles>>