OFWGuide.com is a Filipino website for new OFWs and for Filipinos who want to migrate, find an overseas job or work abroad.
Job Description of Midwife
Jobs for
Midwife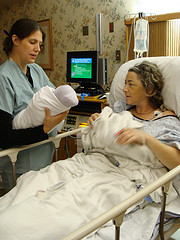 Nature of Job:
Midwife is responsible in caring of pregnant women, assisting them with their condition, from giving birth to assuring the health of the baby. Parts of their job are informing mothers the proper way of caring themselves during and after pregnancy and the steps on caring of their newborn.
Basic Tasks:
To assess the condition of mothers during their pregnancy, labor, and after birth.
Responsible for the delivery of the mother, ensuring the safety of both mother ad child
To assist the pregnant mothers on their laboring condition
Monitoring and examining pregnant mothers
Giving advice and information to the pregnant mothers regarding their condition
Offer support and advice to mother who suffer miscarriage, stillbirth and other unexpected situations.
Make diagnosis and assessment about the mother's condition and will refer to obstetricians and other specialist if abnormality occur.
Assessing if the mother is in high risk of pregnancy.

Advising the mother on proper care of the child including breastfeeding
Education and Training Requirements:
Must have Bachelors Degree in Midwifery and must hold authentic license.
Must have training certificates in midwife practice, mother and child caring and other relevant programs for Midwives.
At least 2-3 years of experience in Midwifery.
Skills and Competency Requirements:
Must have above knowledge in assessing, examining, diagnosing, and assuring proper delivery of the mothers
Must have wide knowledge and expertise in assessing pregnant condition
Must have above average expertise in midwifery.
Knowledge in assessing possible abnormalities.
Experience in dealing with different type of pregnancy
Must have the ability to teach and informed women on how they will take care of themselves and their offspring
Must have wide knowledge on child caring
Must have the ability to handle different pregnancy cases.
Employment Opportunities:
Aside from nurse and doctors, midwives are also in demand abroad due to the demand of medical care industry abroad. Experienced midwives are highly regarded abroad; in some hospitals they receive much higher compensation fee compare to other medical specialists. There are a lot of openings for experience midwives in the Middle East and United Kingdom
Work Environment:
Midwives are often works with Obstetrician and Gynecologist. Oftentimes, midwives suffer a lot of stress due especially whenever there's an emergency. Like doctors, midwives are always on call especially if they work in a community centers or hospitals.
Work Hours:
Midwife works 8-10 hours a day. They are always on call and sometimes work even 24 hours.
Career Advancement:
Midwives career level sometimes depends on seniority and experience. An entry level midwife can be promoted as Head Midwife.
Related Jobs:
Nurse Midwife
Click here for more job profiles>>