OFWGuide.com is a Filipino website for new OFWs and for Filipinos who want to migrate, find an overseas job or work abroad.
Job Description of Waiter
Jobs for
Waiter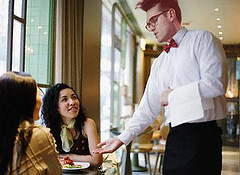 Nature of Job:
Waiters are responsible for serving customers in restaurants, cruise, hotels and lounges. Their duties are taking and serving customer's order. They give constant attention to the customer's need like refilling of coffee, sauces and other needs. Waiters are also responsible for handling the check to the customers and wait for their payments.
Basic Skills:
Taking down customer's orders and serving the food exactly as requested
Handling menu to the customers
Assisting guest to the vacant or reserved table
Record the prices that the guest's ordered in the guest check
Courteously handle the bill to the customers
Advising the customer's the course for the day or the best selling menu.
Education and Training Requirements:
Graduate of Hotel and Restaurant Management, or 2-year vocational course related in HRM.

Training Certificate in Waiter, Food Service or Restaurant Management. However, Training certificates are preferred but not required.

Must have at least 2-3 yeas experience in food serving
Skills and Competency Requirements:
Must have knowledge and expertise in the food service

Experienced in food service

Must be articulate and alert in getting multiple orders

Must know the restaurant environment

Must have knowledge in basic mathematics

Must know how to deal with pressure

Must know how to assist different types of customers

Must be courteous and patient.
Employment Opportunities:
Customer Service in Hotels and Cruise arises this past years that lead to high demand for Hotel/ Cruise Servers including Waiters. Annually, there are numerous job openings for Waiters, especially in Hotels or Hotel Cruise Ships.
Work Environment:
Waiter's often worked in a cozy environment, yet pressure comes along because of too much demand from the customers. Cruise and hotel waiter's often worked in a formal environment.
Work Hours:
Minimum of 8 hours a day but often require taking overtime.
Career Advancement:
Promotions in restaurant/hotels/cruise are not often however, hard working waiter can be promoted as Chief Waiter or Training supervisors.
Click here for more job profiles>>