OFWGuide.com is a Filipino website for new OFWs and for Filipinos who want to migrate, find an overseas job or work abroad.
Job Description of Barista
Jobs for
Barista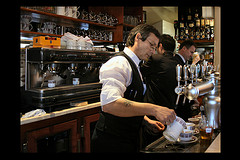 Nature of Job:
Baristas are the one responsible in making and mixing different varieties of coffee in a coffee shop. They are responsible in serving hot or cold coffee, depending on the customer's desire.
Basic Tasks:
Making delicious and relaxing coffee.

Make different variety of coffee such as latte, espresso, brewed and other coffee mixes

Make coffee presentations.

Ask for orders and ask the customer's desired coffee.

Make coffees according to customer's order

Serve hot or cold coffee to customers.
Education and Training Requirements:
Must have at least training certificate or vocational course graduate of coffee making

Must have experience in coffee making and serving at least 2 years.
Skills and Competency Requirements:
Must know how to mix, make and invent different varieties of coffee.
Know how make and designs appealing presentations on coffee.
Knowledge in good customer service.
Must have knowledge and skills on different variety of coffee.
Know how to make hot and cold variety of coffee.
Knowledge in using different coffee equipments like coffee makers and espresso.
Must have good communication skills
Employment Opportunities:
Baristas are very in demand nowadays locally and internationally. Because of the increase of coffee franchise in the country like Starbucks, Seattle's best to name a few, local baristas are expected to increase. Hotels and Restaurants abroad are also open for accepting baristas, like bartenders and other food service jobs; they also give high compensation package for baristas.
Working Environment:
Because of the popularity of coffee nowadays, the demands of baristas in coffee shops are high. Barista works double time; they work with finest but fast in order to give good service. Barista are located at the shop's kitchen and often stay standing for long hours.
Working Hours:
The minimum working time for baristas is 8-10 hours a day including overtime.
Career Advancement:
Promotions for Barista are not as often as other service crew. Depending on the length of their loyalty to the company and performance, barista can be promoted as Trainer or Supervisor.
Click here for more job profiles>>