OFWGuide.com is a Filipino website for new OFWs and for Filipinos who want to migrate, find an overseas job or work abroad.
Job Description of Bobcat Operator
Jobs for
Bobcat Operator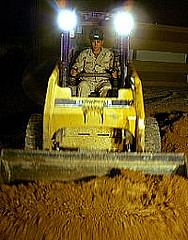 Nature of Job:
Bobcat Operators are part of a construction team that works on land excavation. These are drivers that operates bobcat truck, a heavy equip truck that load and carry lands, big stones and debris.
Basic Tasks:
Do land excavation using heavy duty truck like bobcat.
Drill land.
Load land, cement or stones and unload or transfer to the excavated area.
Measure the amount to be excavated and how deep.
Follow the engineers or foreman instructions before taking actions.
Dig up stones and other debris that are not needed
Education and Training Requirement:
Must be a high school graduate with at least 2-5 years experienced as bobcat operator or any related job in a construction or mining industry.
Skills and Competency Requirements:
Must know how to drive and operate Bobcats.
Know how to do proper excavations and land drillings
Knowledge in construction works.
Knowledge in excavating according to the accurate measure or depth of the excavation.
Must know basic engineering like land measuring and estimation.
Must have strong built and good communication skills.
Can follow direction well and easy.
Employment Opportunities:
Bobcat Operators as well as other construction jobs remain in demand abroad especially in the Middle East. More company opened, both in construction and mining that requires more skilled workers even without proper educational attainment.
Working Environment:
Bobcat Operators works in an accident prone area and exposed to extreme heat that is why they are provided with proper attire to avoid accidents.
Working Hours:
Bobcat Operators works at least 8-10 hours a day.
Career Advancement:
Bobcat Operators does not have definite promotion. In years of experience and evolution as a driver, they can be promoted as foreman.
Click here for more job profiles>>