OFWGuide.com is a Filipino website for new OFWs and for Filipinos who want to migrate, find an overseas job or work abroad.
Job Description of Physical Therapist
Jobs for
Physical Therapist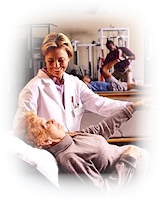 Nature of Job
Physical Therapist, often called as PT, are known for their passion in caring for patients that deals with stroke, limp, and other diseases that hinders them to perform their muscles and bones. PT helps the patients by massaging the affected area of the patients and performs activities or exercises for the patients.
Basic Tasks:
Orient patients and their family with their condition
Assess the muscles and bone condition of the patients
Massage the affected area of the patient
Prepare an activity or exercises that will enhance the muscle and bone condition of the patient
Prepare therapy procedure and program
Assist the patient to slowly move
Coordinate with physicians or doctors regarding the condition of the patient
Examines the capability of the patient to move.
Helps the patient to restore his/her posture
Document the progress of the patient by encoding.
Conduct examinations and exercises from time to time.
Educational and Training Requirements:
Must be a graduate of Physical Therapy.

Must hold an authentic license

Must have at least 2-3 years experience as a hospital or private Physical Therapist
Skills and Competency Requirements:
Must be a Professional PT that has hold and assists different cases.
Must have wide knowledge in handling different cases of patients such as fractures caused by accidents, stokes, limp, muscle and bone locking and other cases.
Must have wide knowledge on different therapy.
Ability to prepare and conduct effective exercises.
Know how to massage the affected area.
Must know how to handle different kind of patients.

Must know how to converse well to the patient and their families and give good advices.

Must be patient
Employment Opportunities:
Physical Therapist is widely needed both local and abroad. PTs are not only hired by hospitals, wellness and rehabilitation centers are also in need of Physical Therapist. Moreover, well experienced PT can also work as freelancer also known as Private Physical Therapy to have more income. Overseas, Physical Therapist is still needed in USA, Australia and other parts of Middle East, and the offer is as big as other medical professions.
Work Environment:
Physical Therapist has a very nice working place especially for those who work in Wellness and Rehabilitation Centers since they promote healthy living. Private PT often stays or conducts visits to the private place of their patients to conduct exercises and examinations. PTs work is not as stressful as the other profession except on the physical condition of the patient.
Work Hours:
Hospital and Wellness PTs often works for 8 hours a day. Private PTs schedule may vary on the length time of the therapy program.
Career Advancement:
Entry level Physical Therapist can be promoted as Head PT or be a manager or director of the Wellness and Rehabilitation.
Click here for more job profiles>>