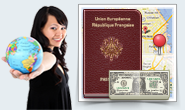 OFWGuide.com is a Filipino website for new OFWs and for Filipinos who want to migrate, find an overseas job or work abroad.
Filipino Welders In-demand Than Other Workers
Dec 20, 2008
According to the Technical Education Skills Development Authority (TESDA), compared to other skilled workers, Filipino welders are more in-demand here in the Philippines and abroad.
According to TESDA Region 1 Director Washington Agustin, welders, especially structural welders is the number one requirement of manpower both here and abroad.
He said that structural welders are highly in-demand in ship building industry and manufacturer of industrial tanks, including LPG (liquefied petroleum tanks).
Agustin address the need of welders locally and overseas during his speech in the commencement exercise of 136 trainees in Shielded Metal Arch Welding sponsored by TESDA in cooperation with the Department of Labor and Employment (DOLE) and Overseas Workers Welfare Administration (OWWA).
These graduates will have to undergo training which is more advance, the Gas Tungsten Arc Welding (GTWT). This training will help be eligible working overseas.
Agustin also said that Filipino workers are most wanted abroad compare to other nationalities not only because of their efficiency, good work ethics but also with their good command with the English language making them easy to negotiate with their employers.
The TESDA also trained these welders using Basic English, to help them converse with the employers abroad and make themselves stand out among other foreign workers.
Before these newly graduate welders secure an overseas job, they are required to render service in the country for at least two years using their TESDA certificates to have a better job opportunity.
Welders are highly in demand in countries like North America, Europe, Middle East, as well as in some developing countries in Asia.