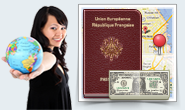 OFWGuide.com is a Filipino website for new OFWs and for Filipinos who want to migrate, find an overseas job or work abroad.
Living and Working in Dubai
Joyce Anne Agacer, Jan 25, 2005
"It has spectacular beaches but is not Australia; it is one of the world's most secure destinations but is not Singapore; it has opulent city hotels and superb beachside resorts but is neither Jakarta nor Bali. It has world class shopping but is not Hong Kong."
Welcome to Dubai, the City of Merchants
Dubai or Dubayy (in Arabic ÏÈí), a country where the dust of the desert is clearing to reveal the potential for one of the most significant international cities of the 21st century.
Dubai is the centre of commerce, trade and tourism in the UAE (United Arab Emirates), with Abu Dhabi (UAE's capital) being primarily Oil and Government based. Dubai's economy is largely based on trading, manufacturing and tourism with only 20% being contributed from oil sales.
Geography
Dubai is the second largest of the seven United Arab Emirates (Al Imarat al Arabiyah al Muttahidah). The other six emirtates are Abu Dhabi, Sharjah, Ajman, Umm Al Quwain, Fujairah and Ras Al Khaimah.
Total land mass: 83,600 sq. km
Total area: around 3,900 sq. km.
Total surface area: 3885 square kilometres.
Situated on the banks of a creek, Dubai actually comprises two towns - Deira to the north-east, and Dubai to the south-west. The Creek (al-khor) that separates them is an inlet of the Arabian Gulf.
Population
Dubai's population stood at 689,420 in 1995 when the last census was taken. The mid year figures for 2004 put the population at almost 1,500,000 and the estimates for 2005 exceed 1,700,000.
The population exists on 15% of locals, 65% of Indian and Pakistani, 10% of Arabs from outside the UAE and 10% of European (most English), Chinese, Australians and Filipinos.
Language
The official language of the country is Arabic, although English, Urdu and Hindi are spoken and, with some perseverance, understood! All road and shop signs, restaurant menus etc, are in Arabic and English.
Religion
Islam is the official religion of the UAE, but other religions are respected and followers are allowed to practice their beliefs here. There is a Hindu Temple, two Catholic churches, an Anglican and a Protestant church in Dubai.
Climate
The UAE has a sub-tropical, arid climate with Dubai being sunny most of the year round with clear blue skies and a temperature ranging from 24oC in January and rising to as high as 48oC in July. Rainfall is infrequent (just a few days per year, amounting to some 13 cm in total) and usually falls in March, so you can be assured of getting a tan all year round.
Next Page - Living in Dubai