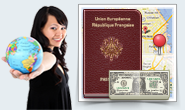 OFWGuide.com is a Filipino website for new OFWs and for Filipinos who want to migrate, find an overseas job or work abroad.
Fil-HR Manpower
Mar 20, 2005
FIL-HR MANPOWER DEVELOPMENT & SERVICES SPECIALIST CORP.
President/Owner/Manager: LITO T. CUBILLAS
Date formed: December 27, 2000
FIL-HR is a dynamic organized overseas recruitment agency with Philippine Overseas Employment Administration (POEA) License No. 554 – LB –122202 - R. Its principal objective is to identify, recruit, train and give necessary exposure to prospective Overseas Filipino Contract Workers.
History
The birth of FIL-HR MANPOWER DEVELOPMENT AND SERVICES SPECIALIST CORP. (FIL-HR ) is in response to the increasing number of Filipino who wants to work abroad with employer that will give them just compensation for their labor.
FIL-HR hopes to form a dynamic working relationship with the Philippine government in an effort to build a bridge between aspiring Overseas Filipino Contract Workers with interested employers abroad. But helping does not just ends here. FIL-HR provides the Filipino aspirants with the necessary training so they can become effective in their chosen field of employment. In short, FIL-HR paves the way to a better life.
Management and Staff
FIL-HR's management is headed by Mr. LITO T. CUBILLAS, a BUSINESSMAN noted for his participative management style. Known as an effective leader, he draws inspiration from his extensive experience and his deep concern for people.
FIL-HR draws confidence from its staff personnel who practice the highest standards of efficiency, productivity and customer satisfaction. Their long years of experience in manpower pooling ads credence to the company's objective of recruiting and deploying the most qualified Overseas Filipino Contract Workers.