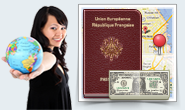 OFWGuide.com is a Filipino website for new OFWs and for Filipinos who want to migrate, find an overseas job or work abroad.
45 Filipino Engineers to Be Hired by a Company in Spain
Jun 13, 2007
Tecnicas Reunicas, S.A (TRSA), the largest engineering and construction company in the oil and gas sector of Spain, sought the permission of Philippine Overseas Labor Office (POLO) in Madrid to hire 45 Filipino engineers from the Philippines. The Department of Labor and Employment (DOLE) recently announced this development.
The TRSA has existing and forthcoming projects in different countries worldwide. The Saudi Basic Industries (SABIC) recently awarded the company the construction of the phenolics facilities project which will be implemented by Saudi Kayan Petrochemical Co. in Al-Jubail. The TRSA will facilitate the construction, engineering design, procurement, and the management of the project.
This news is based on the report of Labor Attaché in Madid, Ramon T. Tionloc, Jr. to Labor Secretary Arturo Brion. According to Brion the efforts of the POLO in Madrid to provide jobs for Filipino engineers is in line with the DOLE's goal to find high-end and better paying jobs for OFWs.
In Tionloc's report, he mentioned that POLO approved TRSA's request to hire 45 engineers from the Philippines after studying the TRSA's employment terms and conditions and finding it acceptable and favorable for OFWs.
The labor attaché also said that the POLO in Madrid is working hard to get connections with different Spanish companies particularly in the engineering and heavy industries sector that has projects in the Middle East.
Tionloc added that his office in Madrid is keeping an eye on developments in Spain's maritime sector. According to Brion, the POLO in Madrid has been negotiating with Spain's maritime sector for possible employment opportunities for Filipino seafarers, port, and other maritime workers.