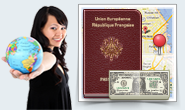 OFWGuide.com is a Filipino website for new OFWs and for Filipinos who want to migrate, find an overseas job or work abroad.
List of Recruitment Agencies Authorized to Recruit for Canada
Maria Theresa S. Samante, Mar 15, 2008
The Philippine Overseas Employment Administration (POEA) has released the list of licensed recruitment agencies that are authorized to recruit and deploy Filipino workers bound for Canada.
The POEA said that some skilled and professional overseas Filipino Workers (OFWs) are needed in the provinces of Manitoba, Alberta, and Saskatchewan. And they advised that the Canadian law requires no recruitment and placement fee for workers applying for jobs in these provinces.
The POEA's government placement facility has no job offer for Canada. Applicants are advised to apply only at the DOLE-POEA licensed recruitment agencies listed below (partial list) to avoid illegal recruiters. These are the only licensed agencies that have approved job orders and are permitted by the POEA to recruit OFWs for Canada.
21st Century Manpower

APEX- Agency for Pinoy Excellence

Archangel

Global Solutions, Inc

Augustin International Center, Inc

Best One International Services & Consultancy, Inc

Bison Management Corporation

BM Skyway General Services & Trading

CATAMA Placement Agency, Inc

Centaur International Manpower

EDI-Staffbuilders International, Inc

Excel Green Kard International, Inc

FIL-HR Manpower Development Services Specialist Corp.

Finest Asia Resources, Inc

First Champion & International Entertainment Inc

France Asia International Inc

Grand Placement & General Services Corp.

Gulf Asia International Corporation

Industrial Personnel and Management Services Inc, (IPAMS)

International

Job Recruitment Agency, Inc

JAD

+GTC Manpower Supply & Services, Inc

Jai—Kin Resources Corporation

Jean-Louise Resources Corporation

JS Contractor Incorporated

Krona international Service System

Landbase Human Resources Company

Light & Hope Human Overseas Placement Agency Inc

Louis International Manpower Services (Phils), Inc

Lucky international Management Services

Mercan Canada Employment Phils, Inc

Mori International Agency Corporation

MRH

Global Personnel Services, Inc

OMANFIL International Manpower Development Corporation

OTA International Promotions & Manpower Corporation

Parts International Placement Agency

Peridot International Resources

PNI International Corporation

Prestige Search International Inc.

Principalia Management & Personnel Consultants, Inc.

Profile Overseas Manpower Services

Reliable Recruitment Corporation

Rise Manpower Services

Sacred Heart International Services

September Star Incorporated

Smart Promotions, Inc

Staffhouse International Resources

Star Express Placement Inc

Treasure of Hope International Inc
For complete list of agencies duly authorized by the POEA to recruit and deploy OFWs, please visit the POEA website at www.poea.gov.ph or click this
List of Recruitment Agencies Authorized to Recruit for Canada.