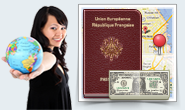 OFWGuide.com is a Filipino website for new OFWs and for Filipinos who want to migrate, find an overseas job or work abroad.
Filipino Cooks In-Demand Abroad
Oct 23, 2008
The Department of Labor and Employment (DOLE) informed that job prospects are bright for Filipino cooks/chefs abroad. Filipino culinary experts are urgently needed in counties such as United Kingdom, United Arab Emirates, Kingdom of Saudi Arabia, Singapore and Malaysia.

Foreign countries prefer Filipino cooks because of their proficiency in communicating with the English language and excellent work ethics. Aside from restaurants, Pinoy cooks can choose from other work setting such as hotels, food courts, hospitals and cruise liners.

The high demand encourages more Filipinos to enroll in culinary schools despite the expensive tuition fees. Most are attracted to the possibility of earning USD 2000 to USD 4000 overseas.

One proof is the proliferation of culinary schools in the country, From one cooking school in operating in year 2000, there are already 400 cooking schools in the Philippines today.


Pinoy chef Gene Cordova said, "'Yung tinatawag natin na culinary fever is something here to stay and more than that it's not really something na uso pero talagang innate na ito sa ating mga Pilipino."

View the latest job openings for cooks/chefs at WorkAbroad.ph.