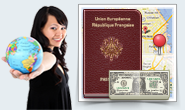 OFWGuide.com is a Filipino website for new OFWs and for Filipinos who want to migrate, find an overseas job or work abroad.
Total of 624 articles
Displays 10 articles / page
Nov 23, 2017
The start of the business venture can be the most enchanting, as the endless possibilities of success inspire and motivate.
Nov 21, 2017
For OFWs there are many potential opportunities across different countries to work in the financial industry, even starting out from home.
Nov 17, 2017
Here are 6 signs that it may be time to make a change or quit your job.
Nov 6, 2017
These are some common habits that many people share, all of which contribute to an overall unprofessional impression.
Oct 19, 2017
Being outstanding in your place of work doesn't necessarily mean you have to try to perform better than your boss.
Oct 9, 2017
Take a look at the following dos and don'ts for the best way to handle that highly anticipated offer for that job abroad.
Sep 20, 2017
If all else fails and you end up having to deal with a real bully, what should you do?
Sep 7, 2017
Even without experience, you can still construct a solid resume that will help get your foot in the door for an interview, or even land you a job.
Aug 24, 2017
If you are waiting for your boss to tell you what to do to be happy in your life, here are five things you should not expect your boss to tell you.
Aug 10, 2017
As a Balikbayan working or waiting to work abroad, you carry the responsibility of showing all Filipinos as the most desirable employee.
Total of 624 articles
Displays 10 articles / page