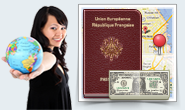 OFWGuide.com is a Filipino website for new OFWs and for Filipinos who want to migrate, find an overseas job or work abroad.
Total of 601 articles
Displays 10 articles / page
Jan 13, 2017
Even though phone/Skype interviews are fairly new compared to face to face interviews, that doesn't mean they can't be perfected.
Dec 19, 2016
If you feel you deserve a salary increase but don't get it, you must first understand the reasons why your performance is not rewarded while you slog on.
Dec 5, 2016
There is a correct way to seek employment in other companies while you are still productively employed.
Nov 24, 2016
Getting a job means doing a great job during interviews.
Nov 16, 2016
Finding a job abroad requires perseverance, time and effort, and a whole lot of diskarte. Here are some practical tips on how to land that dream overseas job
Jul 25, 2016
Here are the latest overseas job openings for Filipinos posted in WorkAbroad.ph
Mar 3, 2016
Customs in Oman that overseas Filipino workers or OFWs should follow.
Jan 14, 2016
Resignations, particularly if you've spent a long time with the organization, can be an emotional decision. Many resignations are the result of frustrations arising from unfulfilled expectations from the employer.
Nov 26, 2015
What are the things you should stop doing to be happier at work and have a more productive career? Make it a point today to identify some of the obstructions you are facing with your work or career and take a step to get past them.
Nov 10, 2015
Job fairs come up seasonally and attract a lot of attention from a variety of employers and many interested job seekers. If you have any interest in the job market, you should make sure that you drop everything else to be there.
Total of 601 articles
Displays 10 articles / page