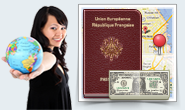 OFWGuide.com is a Filipino website for new OFWs and for Filipinos who want to migrate, find an overseas job or work abroad.
Total of 630 articles
Displays 10 articles / page
Feb 13, 2018
If you feel like you are holding yourself back from living or working at your fullest potential, it might be time for a bit of honest self-enquiry.
Feb 7, 2018
Take a look over these five common reasons that your employer might not consider you for an advancement.
Jan 19, 2018
Because businesses are constantly changing, job hopping keeps you up-to-date on everything happening in the marketplace.
Jan 8, 2018
Starting with the core of who you are is the best possible way to approach your career development - or indeed your career at all.
Dec 19, 2017
These five tips will help you to stay organized and focused until you land your next big role.
Dec 13, 2017
In some cases a job change is necessary in order to reach your full potential.
Nov 23, 2017
The start of the business venture can be the most enchanting, as the endless possibilities of success inspire and motivate.
Nov 21, 2017
For OFWs there are many potential opportunities across different countries to work in the financial industry, even starting out from home.
Nov 17, 2017
Here are 6 signs that it may be time to make a change or quit your job.
Nov 6, 2017
These are some common habits that many people share, all of which contribute to an overall unprofessional impression.
Total of 630 articles
Displays 10 articles / page