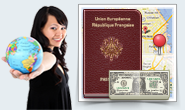 OFWGuide.com is a Filipino website for new OFWs and for Filipinos who want to migrate, find an overseas job or work abroad.
Total of 615 articles
Displays 10 articles / page
Aug 10, 2017
As a Balikbayan working or waiting to work abroad, you carry the responsibility of showing all Filipinos as the most desirable employee.
Jul 21, 2017
Madalas, there are indicative signs na nasa peligro na ang trabaho mo before you're officially fired.
Jul 11, 2017
Office dating is as old as the corporate world has exits itself.
Jun 23, 2017
Out of nowhere, the interviewer asks questions that catches you unaware – like real dumb questions. How would you react?
Jun 13, 2017
If you want to know whether the career path you have chosen is the right one for you, this article will help you to discover if you are on the right or wrong career path.
May 24, 2017
You need to avoid all of the following mistakes that can make your resume look unprofessional
May 9, 2017
If you really want the job, you don't want to say anything to keep yourself from getting it. At the same time, you will get fired for lying during the application or interview process.
Apr 20, 2017
As opposed to the kontrabida traditional bosses, more and more bosses today choose to become more accessible to their teams. Here are a few things you should never ever tell your boss, no matter how beshie-level you think your friendship is.
Apr 7, 2017
While there is no way to truly know a company during the short application and interview period, there are some warning signs you need to look out for when considering an employer overseas
Mar 21, 2017
Like any other tiring but worthy endeavour, applying for your dream job abroad could get way easier with the help of other people.
Total of 615 articles
Displays 10 articles / page