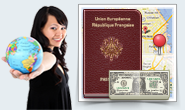 OFWGuide.com is a Filipino website for new OFWs and for Filipinos who want to migrate, find an overseas job or work abroad.
Total of 619 articles
Displays 10 articles / page
Oct 9, 2017
Take a look at the following dos and don'ts for the best way to handle that highly anticipated offer for that job abroad.
Sep 20, 2017
If all else fails and you end up having to deal with a real bully, what should you do?
Sep 7, 2017
Even without experience, you can still construct a solid resume that will help get your foot in the door for an interview, or even land you a job.
Aug 24, 2017
If you are waiting for your boss to tell you what to do to be happy in your life, here are five things you should not expect your boss to tell you.
Aug 10, 2017
As a Balikbayan working or waiting to work abroad, you carry the responsibility of showing all Filipinos as the most desirable employee.
Jul 21, 2017
Madalas, there are indicative signs na nasa peligro na ang trabaho mo before you're officially fired.
Jul 11, 2017
Office dating is as old as the corporate world has exits itself.
Jun 23, 2017
Out of nowhere, the interviewer asks questions that catches you unaware – like real dumb questions. How would you react?
Jun 13, 2017
If you want to know whether the career path you have chosen is the right one for you, this article will help you to discover if you are on the right or wrong career path.
May 24, 2017
You need to avoid all of the following mistakes that can make your resume look unprofessional
Total of 619 articles
Displays 10 articles / page