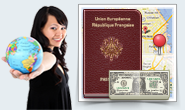 OFWGuide.com is a Filipino website for new OFWs and for Filipinos who want to migrate, find an overseas job or work abroad.
Total of 70 articles
Displays 10 articles / page
Apr 13, 2013
Uniplan Overseas Employment Inc. is one of the Philippines' most experienced and best providers of staffing services worldwide.
Jan 12, 2013
WiseRecruit is an overseas recruitment agency accredited by the Philippine Overseas Employment Administration (POEA). They offer staffing and manpower solutions worldwide through the provision of Filipino workers and professionals.
Oct 15, 2012
The Aquavir agency believes that their work is to serve and hat overseas employment offers a better opportunity for our Filipino workers and their families, hence they have to inculcate in the mind of their workforce a mind of dedicated and efficient service.
Sep 2, 2012
Ruru Global Recruitment Services Inc. (RGRSI) is an international recruitment agency duly recognized by the Philippine Overseas Employment Administration (POEA).
Aug 15, 2012
Thus, we call ourselves as the mission house of Filipino workers who want to uplift their lives through better jobs and better opportunities abroad. Their legal personality in the land based placement industry has been given by POEA on June 2002 and is valid until present date.
Jul 2, 2012
Abba Personnel Services, Inc. is a licensed recruitment agency that recruits and deploys qualified Filipino Professionals to hospitals, healthcare facilities, IT firms and construction and engineering companies.
Nov 19, 2011
This recruitment agency gives pride to the fact that they maintain a professional work team made up of competent professionals, highly-qualified officers and staff who are always willing to give the best services that they can provide.
Oct 23, 2011
This recruitment agency has already established alliances with a number of principals and employers in the United States, United Kingdom, Australia, Canada, Italy, Saudi Arabia, United Arab Emirates, Qatar, Singapore, Hong Kong, Japan, and Korea.
Sep 24, 2011
Jean-Louise Moden Concepts and Services has an experienced and professional team to serve and assist to every client's need. Every team member possess excellent communication skills and able to adjust to cultural differences.
Aug 27, 2011
This POEA-licensed recruitment agency determinedly looked for better ways to improve their crafts towards achievements of goals for the satisfaction of their clients.
Total of 70 articles
Displays 10 articles / page