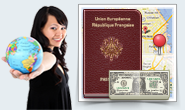 OFWGuide.com is a Filipino website for new OFWs and for Filipinos who want to migrate, find an overseas job or work abroad.
Apr 5, 2019
Criticism keeps us on our toes and is a daily reminder that there is always room for improvement and growth. Don't take it too personally, chill lang!
Mar 19, 2019
Changing careers is a risk. But it may also be the best decision you ever made. The only way to know is if you actually push through with it.
Mar 7, 2019
Everybody has a dream, something you yearn to happen in your life. While dreaming is practically free and effortless, making it a reality isn't. Not really.
Feb 13, 2019
If you want to be employed in a job abroad that you really want, you better make sure you write a cover letter and that it's the best that you can make one so that it's personalised.