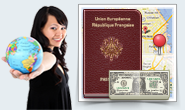 OFWGuide.com is a Filipino website for new OFWs and for Filipinos who want to migrate, find an overseas job or work abroad.
Apr 7, 2017
While there is no way to truly know a company during the short application and interview period, there are some warning signs you need to look out for when considering an employer overseas
Mar 21, 2017
Like any other tiring but worthy endeavour, applying for your dream job abroad could get way easier with the help of other people.
Mar 8, 2017
How does one increase credibility at work? It is not impossible to aim to increase and maintain credibility at work. Here are a few important tips on how to do that.