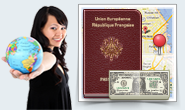 OFWGuide.com is a Filipino website for new OFWs and for Filipinos who want to migrate, find an overseas job or work abroad.
Total of 176 articles
Displays 10 articles / page
Nov 2, 2016
Process how overseas Filipino workers (OFWs) can get an NBI clearance abroad.
Oct 28, 2016
Overseas Filipino workers (OFWs) who wants to avail the EDLP must follow these steps.
Oct 18, 2016
Overseas Filipino workers in Saudi Arabia who wants to change clerical errors in the civil register may follow these steps to do so.
Oct 12, 2016
OFWs who wants to apply for an SSS housing loan must know the requirements needed.
Jul 20, 2016
Steps how the overseas Filipino workers (OFWs) can update any changes in their PhilHealth member data record.
Jul 5, 2016
Overseas Filipino workers or OFWs can file complaints against illegal recruiters who managed to fool them for a job abroad.
Jul 1, 2016
Requirements when renewing MReRP or Green passports of overseas Filipino workers in Jeddah, Saudi Arabia.
Jun 29, 2016
Filipinos can be solemnized and get married at the office of the Philippine Embassy in Riyadh upon submission of documents for marriage application.
Jun 27, 2016
The Philippine Embassy in Riyadh, Saudi Arabia can solemnized the marriage of two Filipino nationals.
Jun 22, 2016
For overseas Filipino workers who needs certification or verification of their records, here are the documents needed and the steps to follow.
Total of 176 articles
Displays 10 articles / page