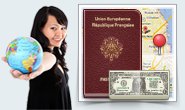 OFWGuide.com is a Filipino website for new OFWs and for Filipinos who want to migrate, find an overseas job or work abroad.
OFWGuide.com is a web guide for Filipinos who want to migrate or find work abroad. This website also aims to help first time OFWs in coping with their new jobs and to stay in touch with the Philippines.

This website does not only want to inform people but also create a community where each member will help one another in realizing the overseas dream.

OFWGuide.com can be essential to Filipinos as they go thru application, recruitment and eventually, deployment. They will still find OFWGuide useful even after arriving in their destinations as we provide tips on how to adjust to the new culture.
If you have any questions, comments, suggestions or
have encountered technical difficulty in our website, please feel free to
contact us at:

Tel. No. : (02) 709-4011 to 13
Fax. No. : (02) 440-7454

Email Add: info@ofwguide.com