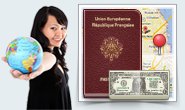 OFWGuide.com is a Filipino website for new OFWs and for Filipinos who want to migrate, find an overseas job or work abroad.
The Internet caters to an expanding market that shouldn't be neglected, and this technology has given businesses of all sizes more room to expand and develop. Businesses extends their advertising strategies using the internet because it undoubtedly reaches a large market that Tri-media once monopolized. When you advertise online, you are opening your business up to a wide array of audiences, and of course, expansion.
Your advertisement will be available for viewing online 24 hours a day, 7 days a week for a lengthy duration
. You can't say that for other media already bursting with ads that often prove unworthy of their costly rates.
Why you should advertise at OFWGuide.com?
OFW Guide.com is not only for Filipinos who want to work abroad but also to those who wish to migrate. OFW Guide will also be useful to OFWs and migrants with articles to help them cope up with their environment. OFWGuide.com can be utilized by Filipinos who want to go abroad and those are already abroad. Your ads will be strategically placed in the website for all visitors to see. OFW Guide.com has a specific target market and advertising with us does not merely mean advertising to a large faceless crowd but focusing on those who certainly needs your service/product.
Advertising Options
Banner Advertising

Banner advertising means you will be placed at a most visible area of the website where all visitors can see your ad instantly.
Newsletter

Newsletters sent bi-weekly to subscribers would bring you closer to your market. Inclusion of your product and company's name is beneficial because since they are not considered junk mail, subscribers will take time to read these newsletters.
For more information and ad rates, please email us at : info@OFWGuide.com and editor@ofwguide.com.