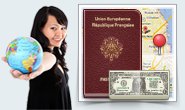 OFWGuide.com is a Filipino website for new OFWs and for Filipinos who want to migrate, find an overseas job or work abroad.
Here are some government directories you might find useful. They contain relevant, up-to-date information regarding overseas employment policies, working conditions, laws, and other issues related to working abroad.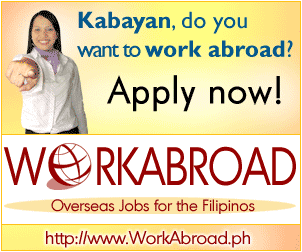 Bureau of Labor and Employment Statistics (BLES)
-The Bureau of Labor and Employment Statistics: In this site you can find statistics and studies on Philippine employment.
Bureau of Labor Relations (BLR)
-The Bureau of Labor Relations site contains updates and discussions regarding the Labor Code, descriptions of labor and management programs being offered, etc.
Department of Foreign Affairs
-A useful site to visit for questions regarding passports and visa information.
Department of Labor and Employment (DOLE)
-DOLE aims to promote gainful employment opportunities, develop human resources, protect workers and promote their welfare, and maintain industrial peace.
This site contains information regarding employment-related concerns such as workers' rights and welfare, labor legislation, wage income policy, etc.
Employees' Compensation Commission (ECC)
-The Employees Compensation Commision is part of the Philippines Department and Employment Agency in the Philippines. The goal of the program is to ensure fair job practices between employers and employees.
Maritime Industry Authority (MARINA)
-A premiere maritime administration in Southeast Asia propelling the Philippine maritime industry to global competitiveness. 984 Parkview Plaza, Taft Avenue corner Kalaw Street, Manila, Philippines
Migrants Advisory Information System
-Contains country profiles useful to prospective migrants
National Labor Relations Commission (NLRC)
-The National Labor Relations Commission (NLRC) is a quasi-judicial body which plays a vital role in the government's program of promoting and maintaining industrial peace through the speedy dispensation of labor justice and development of an effective dispute settlement machinery.
The site contains updates on labor-related cases, termination disputes, and other issues regarding employer-employee relations.
National Wages and Productivity Commission (NWPC)
-The NWPC site contains updates regarding wage disputes and public awareness campaigns.
Overseas Workers Welfare Administration (OWWA)
-This site contains useful information on overseas workers' benefits, security, career development, etc. Also available are services and programs dedicated to the well-being of overseas workers.
Pag-Ibig Overseas Program
-The Pag-IBIG Overseas Program was launched to give Overseas Filipinos the opportunity to save for their future and at the same time give them the chance to avail of a housing loan as much as P500,000 with interest rates ranging from 9%-17% per annum depending on the load amount.
Phil Health
-PhilHealth assumed the responsibility of administering the former Medicare program for government and private sector employees from the Government Service Insurance System in October 1997, from the Social Security System in April 1998, and from the Overseas Workers Welfare Administration in March 2005. Office Address: Citystate Centre, 709 Shaw Blvd.,1603 Pasig City, Philippines Trunkline: (02) 441-7444
Philippine Information Agency (PIA)
-The PIA aims to provide people with adequate information which will help them make better decisions and identify opportunities that could improve their quality of life.
Philippine Overseas Employment Administration (POEA)
-The POEA site contains advisories regarding overseas employment, information and updates on pre-employment services, welfare, licensing, and other issues relevant to Filipino workers abroad.
Technical Education and Skills Development Authority (TESDA)
-TESDA is the leading partner in the development of the Filipino workforce with world-class competence and positive work values. East Service Road, South Superhighway, Taguig City, Philippines Tel: (02) 887-7777 Send Text to 0917-4794370 (Globe) Email: tesdacontactcenter@gmail.com
The Maritime Training Council
-The Maritime Training Council, or MTC, was established on May 1, 1984 in keeping with the Philippine's commitments as a signatory to the International Maritime Organization's 1978 Convention on Standards of Training, Certification, and Watchkeeping for Seafarers, or STCW '78. Amended in 1995, the Convention is now more commonly called as STCW '95. 10th Floor G.E. Antonino Bldg., T.M. Kalaw St.,cor. J. Bocobo Sts. Ermita, Manila Tel Nos. 527-3977 Fax No. 527-4559 Email: info@mtc.gov.ph