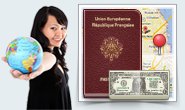 OFWGuide.com is a Filipino website for new OFWs and for Filipinos who want to migrate, find an overseas job or work abroad.
POEA Rules and Regulations
These rules, created by the Philippine Overseas Employment Administration or POEA, would help present, past, and future OFWs (Overseas Filipino Workers). It should be strictly followed by foreign and/or Philippine recruitment (employment) agencies.