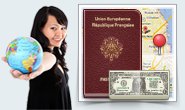 OFWGuide.com is a Filipino website for new OFWs and for Filipinos who want to migrate, find an overseas job or work abroad.
Intellectual Property
Copyright and Ownership

OFWGuide.com, is subject to and protected by Philippine laws. The terms "OFWGUIDE " and "OFWGUIDE.COM" are owned by OFWGuide.com, and are protected by copyright laws. Any commercial use of these terms without the prior written consent of the owner is strictly prohibited.

The contents of this site, including all software, text, or images, are property of OFWGuide.com, Inc. and are protected by copyright laws of the Philippines and other jurisdictions. Unauthorized reproduction, distribution, public display, or commercial use of these materials, in whole or in part, is not allowed.

Users may, however, download and print any copyrighted content from the website, provided that it will be used for personal and/or non-commercial purposes. Furthermore, the copyright of the downloaded or printed materials should be retained, and the content should not in any way be modified.

The materials in this site are provided as is and do not offer warranties of any kind. Downloading and obtaining of contents and/or information from this site is done at the user's own discretion and risk. OFWGuide.com does not warrant or assume any legal liability or responsibility for the accuracy, completeness, or usefulness of any information disclosed in the web site. OFWGuide.com does not give any warranty or other assurance as to the operation, quality or functionality of the site. Access to the site may be interrupted, restricted or delayed for any reason

OFWGuide.com shall not in any way be held liable for any loss or expense including direct, special, economic/financial, or consequential damage resulting from or in connection with:

reliance on the content of the website;
the use of downloaded site material
access, use, or the inability to access or use this website;
any delay in transmission, computer virus, or malfunction in the user's system, server, or connection; and/or
the use of or access to any other website linked to OFWGuide.com



Trademark

All trademarks, service marks, and logos present in the website are registered and unregistered trademarks of OFWGuide.com, Inc. or its licensors. None of the trademarks displayed in this site are to be taken as granting of license or right to use of any of these materials. OFWGuide.com, Inc. prohibits the use of these trademarks as HTML links to the website without the prior written approval of OFWGuide.com affiliates
Links to Other Sites
OFWGuide.com may contain links to other sites for the convenience of the users. However, these links to do not in any way serve as an endorsement by OFWGuide.com of the links' contents. Access to these links is done at the users' own risk and OFWGuide.com shall not be held responsible for any information or material obtained from these links. OFWGuide.com is not responsible for and has no control over the content of such sites.
Indemnity
By accessing this website, you agree to indemnify and hold harmless OFWGUIDE.COM from and against any claims, actions, or demands, alleging or resulting from your use of the material or your breach of the terms of this agreement.
Governing Law
This Agreement is governed by the laws of the Republic of the Philippines and users hereby submit to the jurisdiction of the Philippine Courts.